Lake Fenton High's 'King Eli' loses fight with leukemia
A VERY SAD UPDATE TO A STORY THAT I POSTED. MY HEART GOES OUT TO HIS PARENTS.
Nine days after he was crowned homecoming king at Lake Fenton (Mich.) High School, Eli Florence died Sunday afternoon at his home. He was 15.
Eli became the emotional center of attention in the Flint, Mich., suburb and beyond when, on Oct. 5, five of his friends at Lake Fenton High -- four football players and a golfer -- opted to forgo their own chances to be the school's homecoming king and agreed as a group to honor the terminally ill sophomore and former teammate.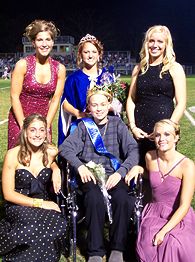 Tri-County Times, Fenton Michigan
King Eli and part of the Lake Fenton royal court.
Eli had suffered from acute myelogenous leukemia for five years.
"He was a funny, outgoing kid," said Jake Kirk, one of the Lake Fenton football players who decided to give up his homecoming king candidacy so Eli could reign. "He loved to make you laugh."
Kirk spoke Sunday afternoon from the high school, where a benefit was about to get under way.
The gathering, catered from donations by 30 area restaurants, was intended to help Eli's family cover some unpaid medical expenses. After the news of Eli's death, it was expected to turn into a celebration of his short life.
Lake Fenton High principal John Spicko said at least 500 people were expected to gather in the school commons.
But, said Kirk, "Now, there may be more people than that."
The end came at Eli's home, surrounded by his parents, an aunt and uncle, one grandmother and some friends. He spent his final days there after being told in mid-September that no treatments could extend his life. He was a former junior high football player and longtime youth baseball player.

The act of kindness by the five Lake Fenton seniors -- football players Kirk, David Bittinger, Lucas Hasenfratz and Matthew Tanneyhill and golfer Ethan Merivirta -- triggered many comments from across the nation on a Web site created by Eli's friends and family.
Eli was scheduled to visit the sideline at the University of Michigan's homecoming game Saturday and meet coach Lloyd Carr, running back Mike Hart and others. But Eli wasn't strong enough to make it or receive a football that had been signed by Wolverine players.
Kirk saw Eli on Saturday night.
"He knew I was there,'' Kirk aid. "I told him goodbye before I left."
Funeral arrangements were pending.